Oftentimes, businesses in the commercial metals industry have multiple scrapyards that each have their own Accounts Payable (AP) departments. Many of these still rely on paper invoices and manual approval processes that are time-consuming and waste hours of staff productivity. In addition, these physical documents are difficult to share across different locations, making communication between different AP departments difficult.
Commercial Metals Company runs 40 recycling yards that are consistently ordering equipment, replacement parts, safety gear, and tools to keep their business running smoothly. For years, each yard handled their AP processes independently. Purchase orders, packing slips, vendor vouchers and goods receipts were managed using carbon copy forms with four copies of each document. With so many locations, it was difficult for AP departments to communicate and exchange information, which was causing approval delays. Staff began looking for a system that would centralize all locations into a single, secure, and more productive system.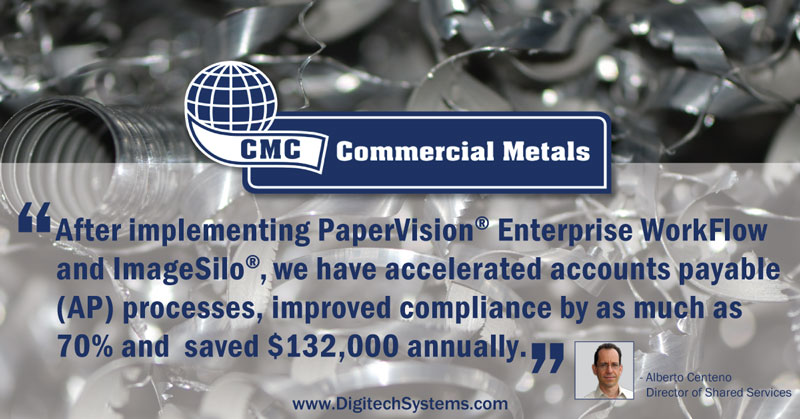 The AP Department at Commercial Metals Company worked with Digitech Systems reseller, CASO, to set up a centralized system that would let staff manage their AP documents from any location. They decided to implement PaperVision® Enterprise WorkFlow, to automatically route purchase orders into ImageSilo®, a cloud-based document management system to electronically manage their files. Thanks to their new system, they can share information between all locations, locate documents in seconds, and save hundreds of thousands of dollars annually.
"Migrating from paper-based AP processes to an electronic system was easy, because ImageSilo is so simple and user-friendly. We've seen a high level of buy-in at every location. I have even received calls and emails with compliments about how easy it is to use."

- Alberto Centeno, Director of Shared Services, Commercial Metals Company