Even in a highly digital and technical world, some organizations are still manually managing documents. Unfortunately, manual processes involving paper are incredibly costly to organizations and make finding the information you need a challenge. This can slow down business processes, frustrate employees, and even negatively impact customer service. Converting paper documents into an easy-to-use and cost-effective electronic format helps organizations save time, money, and operate as efficiently as possible.
If you are overwhelmed by managing paper documents and struggling to find the information you need, there is hope! PaperFlow can help you easily digitize your paper documents and organize data into an easy-to-use, electronic format. PaperFlow works with virtually any scanner and you can easily start scanning documents right from your own desk. Digitizing your information couldn't be easier! Better yet, once documents are electronic, you can seamlessly send them to other line-of-business applications, like accounting software, to further streamline processes. PaperFlow helps organizations eliminate the hassle and cost of physically managing documents.
What if you could scan paper documents right from your workstation?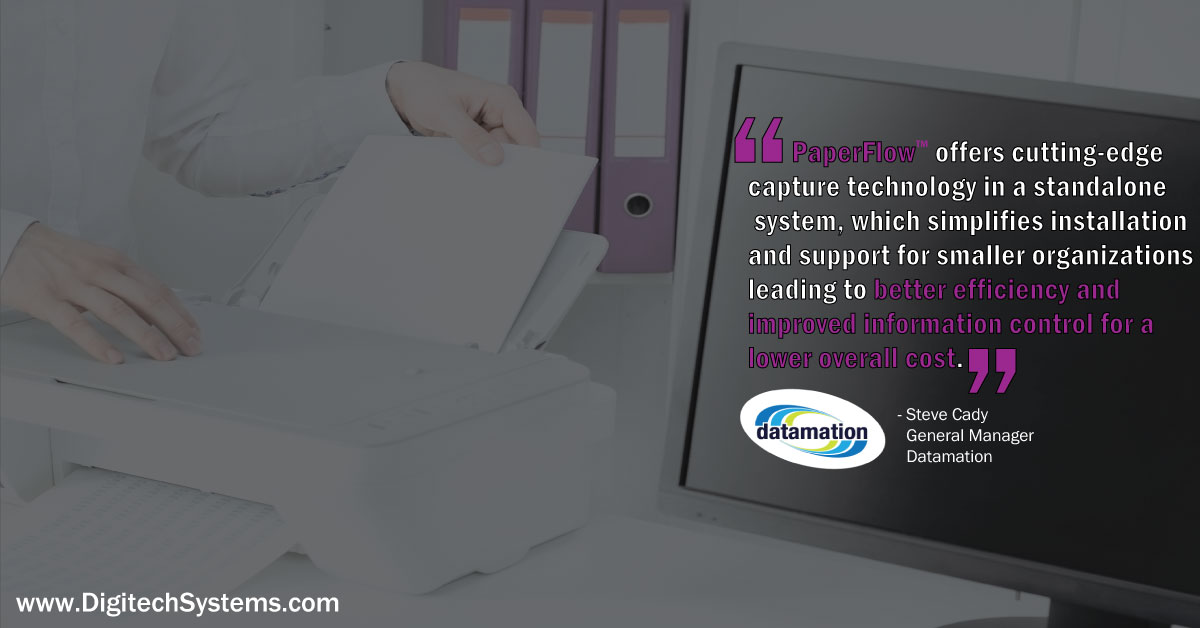 This product sheet includes information on how PaperFlow will help your business start scanning immediately, thanks to a job wizard that can be setup in five easy steps with minimal training. This product sheet also highlights six unique ways the product can help your organization streamline business processes by immediately sending documents to other line-of-business applications, by managing everything in one system, and saving you money by eliminating printing and physical storage costs. You can also find all the technical specifications relating to the product, so you can see how we approach security, system requirements, and specific product abilities. This product sheet is your one-stop-shop for all things PaperFlow.
To learn more about how PaperFlow helps organizations scan, index, and organize your business information, download the product sheet below.